Our Laboratory
Nam nec tellus a odio tincidunt auctor a ornare odio. Sed non mauris vitae erat consequat auctor eu in elit. Class aptent taciti sociosqu ad litora torquent per conubia nostra.
The Applied Biosystems QuantStudio 5 Real-Time PCR System is designed for users who need superior performance, maximum dye versatility, and security options in a real-time PCR system that is affordable and easy to use. The optimized Design and Analysis software is ideal for both first-time and experienced users
| | |
| --- | --- |
| Sample capacity (wells) | 96 |
| Reaction volume | 96-well 0.2 mL block: 10-100 μL |
| Excitation source | Bright white LED |
| Filter or color combinations | 6 decoupled filters, CMOS camera |
| Excitation/detection range | 450-680 nm/500-730 nm |
| Multiplexing | 5-plex + 1 passive reference, 6-plex with no passive reference |
| Maximum block ramp rate | 6.5°C/sec |
| Average sample ramp rate | 3.66°C/sec |
| Temperature uniformity | 0.4°C |
Gradient PCR Nexus Gradient And Vapo Protect
The Mastercycler nexus can accommodate 96-well PCR plates, 0.2 mL PCR tubes, 0.2 mL PCR tube strips and 0.5 mL PCR tubes. This flexibility allows PCR users to select the consumables that best fit their assay. With less than 40 dB[a] noise emission, the nexus is whisper quiet, while also being energy efficient.
| | |
| --- | --- |
| Thermoblock | Aluminum |
| Sample capacity | 96 × 0.2 mL PCR tubes, 1 PCR plate (96 wells) or up to 38 × 0.5 mL Eppendorf PCR tubes |
| Heating technology | Peltier elements, Triple Circuit Technology |
| Temperature control mode | Fast, Standard, Safe |
| Temperature control range of the block | 4 – 99 °C |
| Gradient range | 1 – 20 °C |
| Intuitive graphic programming | ■ |
| Gradient temperature control range | 30 – 99 °C |
| Block homogeneity 20 – 72 °C | ≤ ±0.3  °C |
| Control accuracy | ±0.2 °C |
Biorad BioLogic DuoFlow Protein Purification System
The BioLogic DuoFlow™ is a chromatography systems that offers flexibility with multiple system configurations, many optional upgrades, and a common software platform that is intuitive and easy to follow. These systems can be used on the laboratory bench or in a cold room.
Operating Limits
Flow rate
0.01–10 ml/min
Pressure
3,500 psi (23 MPa) at 10 ml/min
Detection: UV Detection
Standard 254 and 280 nm filters; optional 214, 365, 405, and 436 nm filters; standards 5 mm analytical flow cell; optional 2 mm preparative flow cell; optional BioLogic QuadTec UV/Vis detector for simultaneous 4-wavelength detection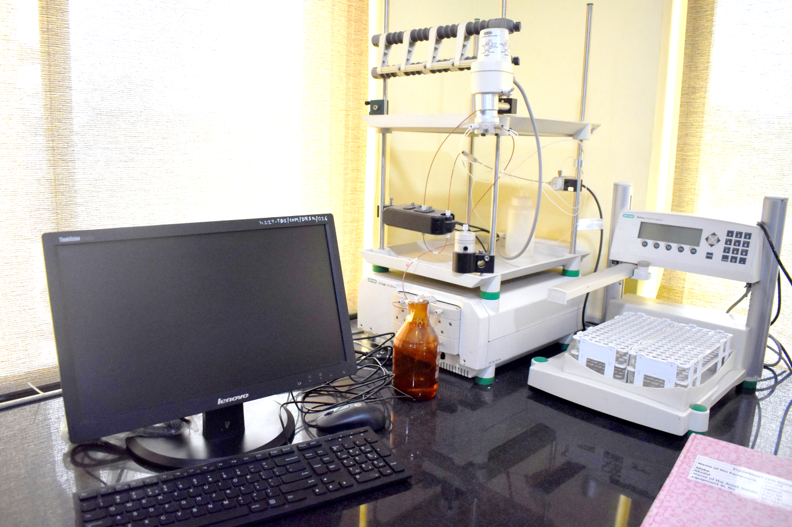 Eppendorf Innova 42R Orbital Shaker Incubator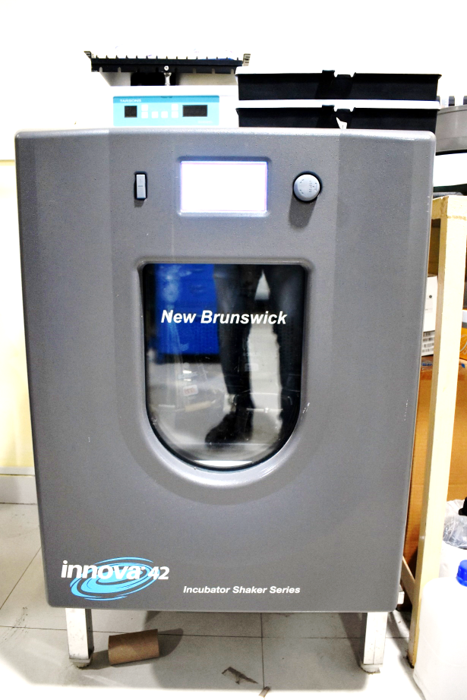 The Innova 42R incubated and refrigerated shakers are our most versatile incubator shakers. The programmable Innova 42 and 42R provide exceptional convenience allowing you to simultaneously shake and static incubate cultures under the same conditions. Use on or under the bench, or double stacked for space savings. An optional culture drawer, gassing manifold, remote alarm, and humidity monitor are available for both models; a photosynthetic light bank and UV germicidal light are available for the 42R.
High capacity in a small footprint:for example, 4x 5 L or 2x 6 L flasks on universal platform; device footprint 4731 cm2/733 in2 (63.5 cm/25 in width, 74.5 cm/29.3 in depth)
Ergonomical and safe interface handling:Top mounted controls and display make bending down unnecessary during handling, avoids accidental parameter changes, and can be reached easily even in a double stack
Easy to clean:Spill diverter and drainable built-in spill pan with rounded corners protect the drive from accidental spills (can be used as a water reservoir to reduce sample evaporation); airflow UV-germicidal light optional
Lab position flexibility:Lab position on or under bench, 2x stackable
Parallel static cultivation:One height adjustable static shelf included, optional culture drawer and additional shelves available
Sample evaporation protection:Bottom spill pan usable as water reservoir; optional culture drawer, for Agar plates, for example
Visual sample control:Large viewing window and internal light provide easy viewing of samples without the need to open the door
Martin Christ Alpha 1-2 LD plus Freeze dryer
Compact, high-performance tabletop unit Martin Christ Alpha 1-2 LDplus for effective lyophilisation of specimens in your everyday lab activities. The LDplus user interface makes the work very easy. You can choose from a wide range of configurations to adapt the freeze dryer optimally to your specific needs. The condenser temperature of -55 °C enables the drying of aqueous products.
Ice condenser capacity 2,5 kg
Ice condenser performance 2 kg/24 h
Ice condenser temperature –55 °C
Dimensions of base model (W x H x D) 315 x 345 x 460 mm
Weight 28 kg
Communication port RS 232
Controller Ldplus
Method  Double-chamber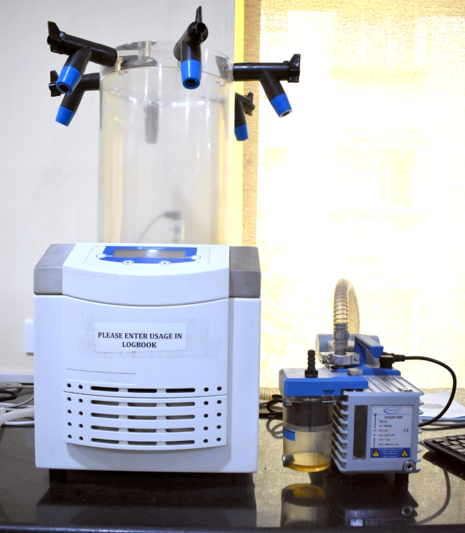 Thermo Fisher Multiskan GO Multimode plate reader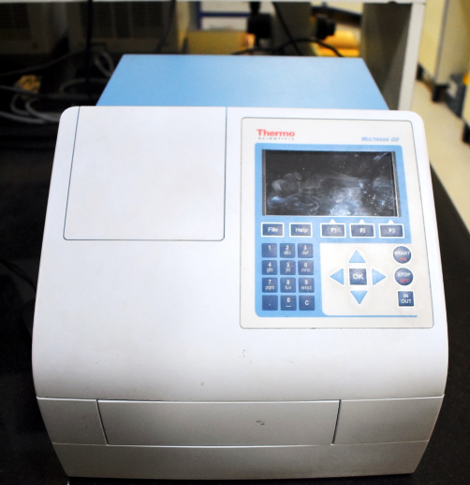 The Thermo Scientific Multiskan GO UV/Vis microplate spectrophotometer offers free wavelength selection for both 96- and 384-well plates and various types of cuvettes.
It features a broad wavelength range with UV area and pathlength correction, as well as fast spectral scanning; making it ideal for virtually any photometric research application, including DNA, RNA and protein analysis. The Multiskan GO can be controlled as a stand-alone with straight-forward internal software for quick and simple measurements. And even the most demanding applications can easily be set up using the intuitive.
| | |
| --- | --- |
| Technical specifications | Description |
| Wavelength selection | Monochromator |
| Light source | Xenon flash lamp |
| Wavelength range | 200–1,000 nm with 1 nm steps |
| Readout range | Up to 4 absorbance units |
| Bandwidth | <2.5 nm |
| Linearity at 450 nm* | 0–2.5 Abs, 2% |
| Accuracy at 450 nm* | 1.0% + 0.003 Abs (0–2.0 Abs), 2.0% (2.0–2.5 Abs) |
| Precision at 450 nm* | SD <0.003 Abs or CV <1.0% |
Berthold Technologies Colibri Micro volume spectrophotometer
The Colibri+ takes microvolume quantification of DNA, RNA and protein samples to a whole new level. The system has been designed to help you accelerate your research combining ultra-fast measurement in less than 3 seconds with intuitive 7-inch touchscreen stand-alone operation.
| | |
| --- | --- |
| Minimum Sample Size | 1 µL |
| Detection Range dsDNA | 2 – 20,000 ng/µL |
| Detection Range BSA | 0.06 – 600 mg/mL |
| Path Length | 0.5 and 0.05 mm |
| Measurement Time | < 3 sec |
| Display | 7″ glove compatible colour LCD touchscreen |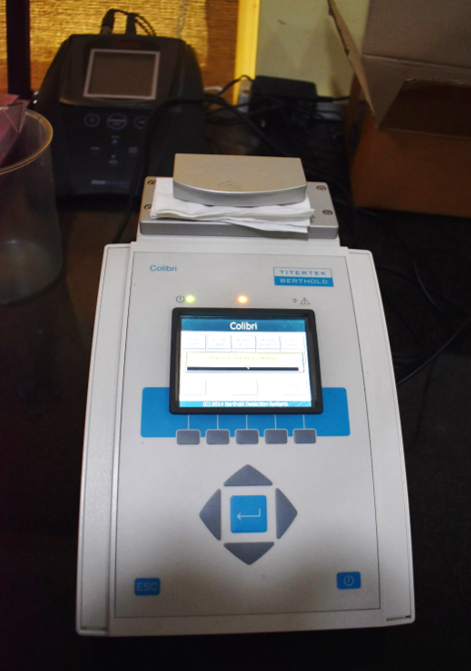 Sonics Vibra cell VCX130 Ultra Sonicator
The VCX 130 is a 130 watt, programmable ultrasonic processor and our most popular small volume system.
Power Output 130 watt maximum Frequency 20kHz
Dimensions H x W x D: 4.5 x 9.75 x 12.5" (115 x 250 x 320mm)
Ultrasonic Converter Part #CV18
Diameter 1.25" (32mm)
Length 5.75" (146mm)
Standard Probe Part #630-0435
Tip Diameter 1/4" (6mm)
Length 5.4" (137mm)
Material Ti6Al4V titanium alloy
Infors HT Platform Shaker Incubator
The Multitron is the number-one choice for reliable, convenient cultivation of microorganisms and cell cultures. The incubation shaker guarantees homogeneous conditions and delivers reproducible results, leaving nothing to be desired regarding its features and capacity.
Temperature Range  5° above ambient to 60°C
Shaker Speed  30–400 RPM
Platform Size  840 x 450mm
Maximum Capacity  6 x 5000ml Flasks
Orbital Diameter  25 – 50 mm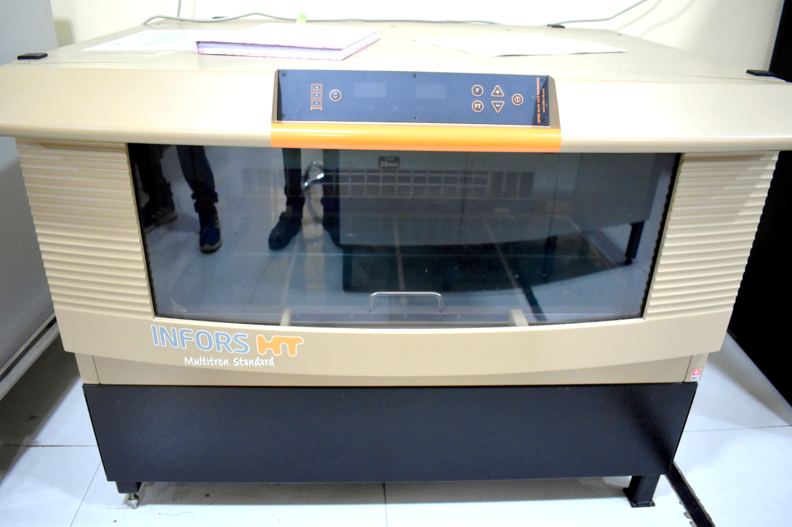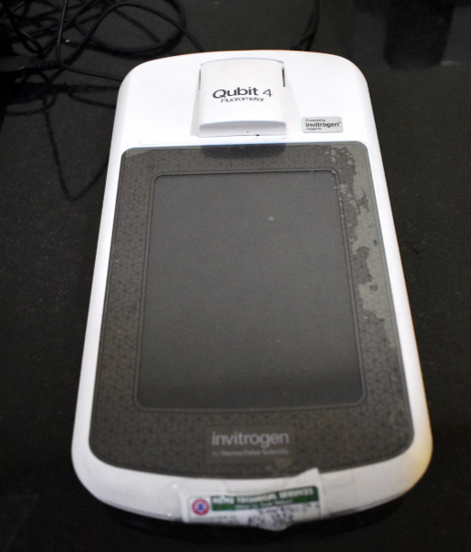 Fast and sensitive quantification of DNA, RNA, and Protein
The Invitrogen Qubit 4 Fluorometer is the next generation of the popular benchtop fluorometer designed to accurately measure DNA, RNA, and protein quantity. The new Qubit 4 also easily measures RNA integrity and quality. The easy-to-use touch screen menus make it easy to select and run the assays you need, with results displayed in just a few seconds.
Instrument dimensions  5.4 in (w) x 10 in (l) x 2.2 in (h)(13.6 cm x 25 cm x 5.5 cm)
Weight  743 g
Dynamic range  5 orders of magnitude
Processing time  ≤5 seconds/sample
Light sources  Blue LED (max ~470 nm)
Red LED (max ~635 nm)
Excitation filters  Blue 430–495 nm
Red 600–645 nm
Emission filters  Green 510–580 nm
Red 665–720 nm
Detectors  Photodiodes: measurement capability from 300–1,000 nm
Warm-up time  <35 seconds
USB drive  4 GB
The Trans-Blot Turbo Transfer System is a high-performance western blotting transfer system designed to provide rapid transfers with high efficiency. The system enables blot transfer of protein in as little as 3 minutes without sacrificing performance when compared with traditional tank protein blotting. The Trans-Blot Turbo Transfer Packs include an optimized buffer, membrane, and filter paper combination that provides superior blot transfers when paired with the Trans-Blot Turbo blotting apparatus. Protein blotting consumables are available in a ready-to-use, pre-packaged stack or in bulk quantities that require assembly.
This protein blotting system is a powerful tool in the western blotting workflow, enabling the visualization and
identification of proteins for downstream analysis. The Trans-Blot Turbo transfer system can be used in the following
applications:
Western blotting
Separation, transfer and analysis (Stain-Free Western Blotting Workflow)
Protein blot transfers
Evaluation of protein expression levels
Immunological or biochemical analyses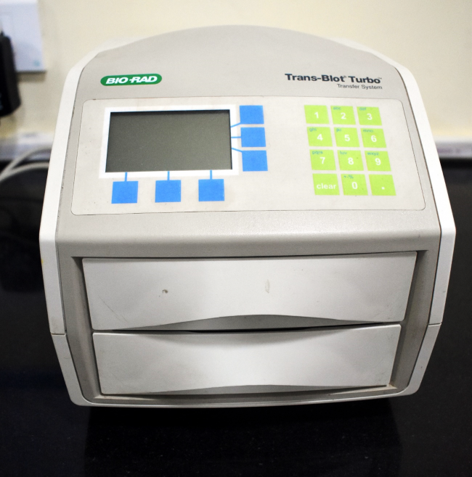 NuAire Biosaftety Cabinet​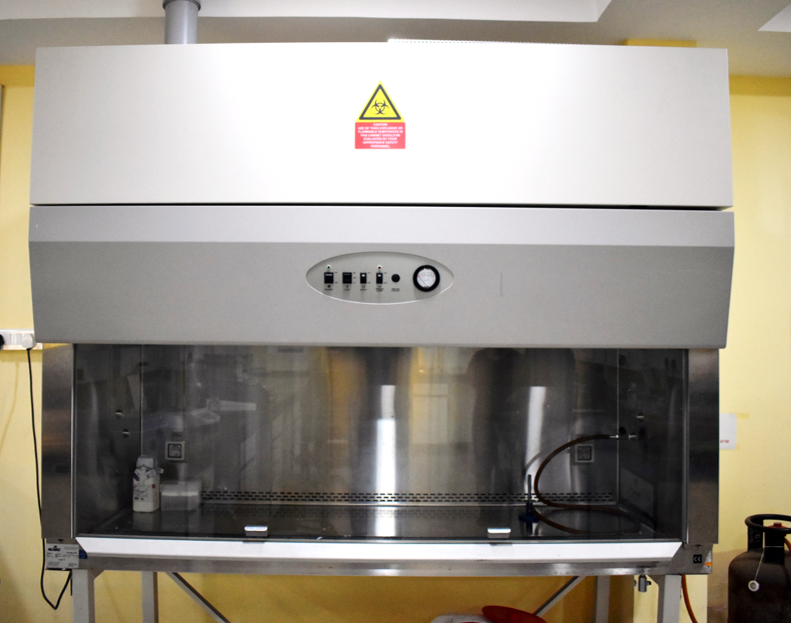 NuAire Biosafety Cabinet, also known as Biological Safety Cabinets, offer personnel, product, and environmental protection through laminar airflow and HEPA filtration for the biomedical/microbiological lab. Application-specific configurations make NuAire BSC's the ideal solution for USP 800 compliance for Sterile Hazardous drug compounding
AIR CLEANLINESS (ISO 14644)  ISO-Class-5
AIRFLOW MONITOR  Pressure
CABINET CONSTRUCTION  All welded stainless steel 16/18 GA, Type 304 pressure tight design
CONTROL SYSTEM  AeroMax
DOWNFLOW FPM (M/S)  60 fpm (0.30 m/s)
PROTECTION  [, Product, Personnel, Environmental]
WORK ACCESS OPENING(S)  8, 10-inches (203, 254 mm)
 Sonics Vibra cell VCX750  Ultra Sonicator

Eppendorf 5804R Centrifuges

Vilber Ebox Geldoc System

Elix Reference 15 Water Purification System

Eppendorf Thermo mixture C
CryoCube Ultra-low -80º C Freezer

Ice Flaking Machine

Microscope Primovert

Allegra X-30 R Centrifuge

Microscope Primostar

Worldwide Shipping
It elit tellus, luctus nec ullamcorper mattis, pulvinar dapibus leo.

Best Quality
It elit tellus, luctus nec ullamcorper mattis, pulvinar dapibus leo.

Best Offers
It elit tellus, luctus nec ullamcorper mattis, pulvinar dapibus leo.

Secure Payments
It elit tellus, luctus nec ullamcorper mattis, pulvinar dapibus leo.